| | |
| --- | --- |
| | Mr. Boobrie adverts: Spoilers ahead! You might find something you regret, read at your own risk! |
Doc

Personal Information

Kanji

ドク

Rōmaji

Doku

AKA

Garbage Sorcerer

Gender

Male

Infection

Returning to youth

Status

Active

Professional Information

Occupation

Sorcerer

Type

Researcher
Tracker

Affiliation

Artemis Institute

Weapons

Pen Draig armor

Debut

Manga

Chapter 2

Anime

Voice Actors

Japanese
English

Shawn Gann
Doc (ドク,, Doku?) is one of the main character of the series. He is a Research Sorcerer from Artemis Institute, which means, he researches the behavior and biology of the Nemesis. His work consists in picking up dead or alive Nemesis and bring them back to the Institute, in return, he receives a sum of money.
He is the actual Tracker accompanying Seth and Mélie in their search for the Radiant.
Appearance
Doc is a middle-aged man. He has tousled brown hair, big eyes and a small mustache in spades separated in two. He wears a striped shirt and black sling pants and his famous double tie.
However, his infection affects his physique. Actually, it arrives without explanation, so far known. His "outer shell" of the body of dies and in his interior he is transformed into a chubby small baby. Like a snake that moults but rejuvenates. It is observed that this transformation is only physical since Doc always knows how to speak and always has his memory and his knowledge. After this moult Doc re-grows faster than the normal growth.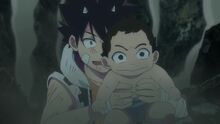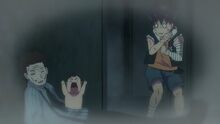 Personality
Doc has an introverted and very timid personality. He prefers to have a rather stable and safe ranged of life than to throw himself into the unknown of adventure and epic battles. Indeed he has a certain lack of confidence in himself and often prefers to defile rather than face situations, even with the ones he likes.
Nevertheless, in spite of all that, he remains endearing in his clumsiness and is a companion on which one can count.
Relationships
They first met at Pompo Hills, where Doc was called to collect the remaining of the Nemesis that Seth fought. As a tracker, Seth seeks his help to get closer to the Radiant. Doc sees him as a huge trouble, and tries to avoid him at all costs, at first. But with time he learn to get used to Seth's carelessness. Despite that fact, Doc sees him as a close friend.
She was Doc's teammate before Seth joins the group. Because of her infection Doc only communicated with Mélie by letter even thou they lived in the same city, all this to not undergo the personality changes of her. Despite all that, they work as a team in the search for Nemesis to win rewards and information to advance in their search for the Radiant.
A waitress at the café-bar "Kettel Coffe" located on Artemis Institute. She's a ventriloquist with her doll in her hand, which she calls Mr. Melba (her father). It is unknown if it is an infection or if her "father" puppet is a representation to Miss Melba's bipolarity. Nevertheless, Doc has feelings for her, although he is far too timid to confess.
First seen as an enemy, they met at Rumble Town where Doc went, alongside Seth and Mélie, in their mission to caught a Nemesis alive. This caused a misunderstanding where Grimm thought that the team was working with Hameline to destroy the town. Even after everything became clear, Doc still fear Grimm, especially because he got back to being a baby.
History
Trivia