Dart Dragunov

Personal Information

Gender

Male

Miracle

Teleportation

Status

Active

Professional Information

Occupation

Sorcerer

Type

Captain

Affiliation

Inquisition
Thaumaturges

Weapons

Bow and Arrow

Debut

Manga

Chapter 3

Anime

Voice Actors

Japanese
English

Ivan Jasso
Dart Dragunov is a member of the Inquisition and Captain of the current Miracle Makers, the Thaumaturges.
Appearance
Dart is and average sized man with a medium build. He has long dark blue hair and orange colored eyes. He wears a frilled color and s long cape. He wears an eye patch and he has a scar on his nose. His clothes are standard Inquisition Captain garments and he also has a long Bow as his weapon.
Personality
Dart has been known to be lazy when it comes to things that are important but he cares about his men. He shows that he cares about people and he seems to know the difference between hate and justice. He only arrests people that truly deserves it. He prefers to get all the facts before he makes a decision. He is also a great cook.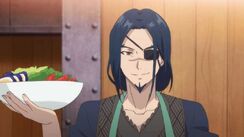 Miracle
His miracle allows him to teleport to where his arrows are shot.
History
Trivia